TNT Carports, INC
TNT Carports offer the best deals on prefabricated steel buildings that are made to last long and don't ask for frequent maintenance as well. The entire manufacturing line use 100% American-manufactured galvanized steel that provides rustproof trait to the metal building. Under galvanization, zinc coating is applied to ensure your steel structure retains rust and corrosion-resistant.
Metal garage buildings delivered by TNT Carports are affordable, versatile, and made with supreme quality steel. You can rely on its top-quality craftsmanship and unmatched customer service. Above all, you will get quirking offers that you can't deny to accept.
The entire range of metal building by TNT Carports is made to confront harsh weather like snow, rain, thunderstorm, hailstorm, and more. Viking Metal Garages is the authorized dealer of TNT Carports with unmatched quality in the metal building industry.
Metal Buildings Offered by TNT Carports
TNT Carports buildings are not limited to a few designs. Instead, you can choose from diverse prefabricated building options that allow you to make endless customization and even design your custom building with the utmost quality. However, prominent metal buildings offered by TNT Carports include:
Metal Carports: Metal carports are the most economical and cost-effective investment to shelter your vehicles and protect them from sleet, rain, snow, and sunlight. Metal carports are available with multiple sizes, colors, dimensions, styles, and other custom options. So, you can make a custom metal carport that matches your existing property and serve your needs.
Utility Carports:  Utility metal carports are specially made to add extra storage space alongside your carport. Metal utility carports are also known as lean-to garages or utility garages. These metal carports are designed to cover trucks, ATVs, cars, or other types of vehicles and equipment. Furthermore, a storage compartment is added to give you ample storage space. 14 Gauge or 12 Gauge steel framing is available for selection. Furthermore, TNT Carports provides a 20-year rust-through warranty on 12 Gauge framing.
Metal Garages: Steel garages are an economical option that can be used as a workshop, parking vehicles, or for storage purposes. You can safeguard your essentials and boost their longevity. Metal garage buildings are highly durable and long-lasting.
Metal Barns / Agriculture: Every farmer looks for a wise investment from their hard-earned money that can shelter their farming equipment and provide adequate storage space for hay, livestock, or other valuables. Ordering a metal barn (metal agriculture barn) from Viking Metal Garages is the ideal option to fulfill all such requirements.
Large Custom Buildings: Not every metal garage suits all homeowners! Hence you need custom buildings with diverse features and different customizations. TNT Carports gives you a hassle-free ordering process with customizations that you want for your property. Further, you can select roof style, color options, size, doors, windows, panels, certification, and much more to fit your entire requirements.
Metal Storage Buildings: Mostly, homeowners look for a cost-effective investment to store their unnecessary stuff in a separate compartment/room. Metal storage buildings are the ideal option that is made with high-quality galvanized steel and give you a complete storage solution.
Top Metal Building Features Offered by TNT Carports
Gauge Galvanized Frame: TNT Carports provides 14 Gauge on their steel buildings, which can be upgraded to 12 Gauge. 12-Gauge is recommended for areas with inclement weather, and it also comes with 20 years framing warranty.
Braces: Braces provide better strength and durability. It is installed in each corner and along the peak of the metal building.
Certification: Certified metal buildings are installed to meet local codes, which are between a range of 120-190mphWinds/20-90 PSF Snow loads.
Gable End: It is a triangular part of metal building that are installed horizontally, with the same curve as the bow of the building.
Walk-in Door: Viking Metal Garages offer walk-in doors with a standard size 32" X 72" for better accessibility in garages, warehouses, commercial buildings, and workshops.
Mobile Home Anchors: Anchors hold the steel building to the ground and keep your essentials safe.
Windows: Adding a window is an excellent option as it gives ventilation and lets sunlight rays into the room. The standard size for windows is 30"x30".
Garage Doors: Garage doors offered by TNT carports come in different sizes from 6'X6' to 10'X10'.
Color Options Offered by TNT Carports
TNT Carports offers a variety of color choices to choose from when selecting your Roof Color, Trim Color, and Wall Color.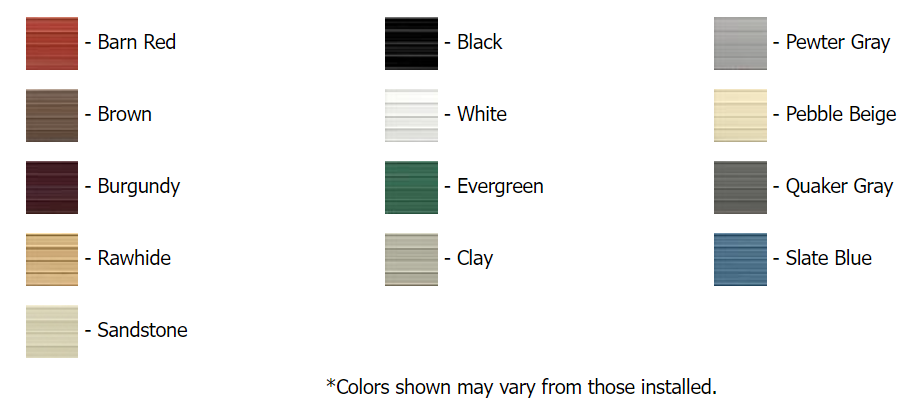 Customize Your Dream Building
At Viking Metal Garages, you have 100% liberty to customize your dream metal building and order it hassle-free. You can customize its roof, trim, sidewalls, doors and windows, steel gauge, trim style, and everything that you need in your dream metal garage. You can also call us directly at (704)-823-6732 and let us know your customizations. We will build a custom metal garage that can benefit your requirements and serve your needs.
Areas Served by TNT Carports
TNT has its manufacturing plants in 48 states of the USA. With time, the number is growing, and many more plants will be added to the list. However, below listed are the major states where you can get the unmatched services of TNT Carports, Inc.
Alabama, Arkansas, Arizona, California, Colorado, Connecticut, Delaware, Florida, Georgia, Idaho, Illinois, Indiana, Iowa, Kansas, Kentucky, Louisiana, Maine, Maryland, Massachusetts, Michigan, Minnesota, Mississippi, Missouri, Montana, Nebraska, Nevada, New Hampshire, New Jersey, New Mexico, New York, North Carolina, North Dakota, Oklahoma, Ohio, Oregon, Pennsylvania, Rhode Island, South Carolina, South Dakota, Texas, Tennessee, Utah, Vermont, Virginia, Washington, West Virginia, Wisconsin, and Wyoming.
Viking Metal Garages – Proud Partner of TNT Carports
Viking Metal Garages is a proud dealer of TNT Carports, and hence you can rely on our wide range of metal buildings that come at your doorstep directly from the manufacturing line. TNT Carports dedicatedly work to help you with a custom-built metal garage that can shelter your valuables and protect them from weather and theft.
Our metal buildings are available at highly affordable prices that make TNT Carports one of the top metal building dealers in the industry. Call us at (704)-823-6732 to know your dream building price. All get detailed information about our RTO & Financing options that helps you buy any metal building with a small initial deposit.
Buying from Viking Metal Garages bestows you multiple benefits that include:
Free Delivery
Free Installation
Rent-to-own facility
Certified Metal Buildings
20 Years of Protection
Strong & Reliable
Competitive Pricing
Financing Options
Best Customer Services
For more information regarding any metal buildings, pricing, customization options, financing, or any other related information; you can talk to our building specialists at (704)-823-6732.