CAROLINA CARPORTS, INC.
Carolina Carports, Inc. (CCI) is a family-owned corporation that was founded in 1997. It is the most popular metal building & steel structure manufacturer based in Dobson, North Carolina offering its services across various locations in the United States. Apart from headquarters in Dobson, NC there are six strategically located divisions work to serve the greater part of the US with quality metal carports and garages.
The manufacturer's primary function is to manufacture metal carports, steel buildings, enclosed garages, barns, custom metal buildings, and other metal products by using the latest technology as well as engineered expertise and state-of-the-art machinery. Carolina metal buildings or Carolina carports are made with galvanized steel, which is durable and a safeguard to your valuables for decades.
Carolina Carports, Inc. offers its high-quality steel buildings through a network of trained representatives across the United States. They also use the services of highly skilled contractors for the easy installation of each product.
Due to the customer-centric approach, they believe that customers deserve the best building; this is why they have invested in machinery and technology that fabricate the components of buildings in house from only the highest quality metal and steel coils. Carolina Carports, Inc. is a commitment to product quality metal structures, excellent customer service, and best competitive prices to customers are the driving force behind its growth and success.
Why Choose Carolina Carports, Inc.?
We are an authorized representative of Carolina Carports, Inc. because we wanted to partner with the best in the business. For over 20 years, Carolina Carports, Inc. has been the industry leader in the manufacturing, production, and installation of metal and steel buildings. Their years of extensive experience allow us to have the utmost confidence that our customers will receive the top quality building that they expect.
The teams of highly skilled independent contractors deliver and install your structure for FREE on your level foundation. They use only the best approach for building installations so that customers receive the highest level of quality workmanship in the industry. Professional representatives in Carolina Carports, Inc. attend every detail of customer purchases to ensure satisfaction.
CCI is the most popular name in the steel building industry due to-
20+ Years of Successful Operations in the Metal Building Industry
Thousands of Metal Building Models Available
Millions of Buildings Sold till date
7 Manufacturing Locations in the USA
1500+ People in Network (Employees, Contractors, and Helpers Dealer Representatives)
Carolina Carports, Inc. buildings are fully customizable to fulfill your requirements and offer attractive features. This manufacturer offers engineer certified steel buildings that can be custom built to the requirements of your city or county's building code rating.
Viking Metal Garages believes in teamwork, honesty, and hard work. Carolina Carports, Inc. was founded on those same principles. By teaming with CCI, we can offer our customers the highest quality materials, competitive pricing, and excellent customer-centric service. We know that when you choose to work with us, you will be satisfied with your experience from start to finish and will receive the fully functional steel building of your dreams.
Carolina Carports Pricing:
Are you looking for the latest pricing of Carolina Carports? You've arrived at the right place with real-time metal building pricing updates. Carolina Carports, Inc.'s latest product prices include Metal Carport prices, prices for Metal Garages, Metal Barns, RV Carports, Certified Triple Wide Buildings, and Clear Span Metal Buildings.
CCI metal building prices are some of the most competitive in the industry, but it can vary depending on - the style and size of the metal structure you choose, the area where you live, and how much snow load or wind rating you need and the material gauge.
Types of Prefabricated Steel Buildings Offered by Carolina Carports Inc
Carolina Carport Inc. manufactures premium quality prefabricated metal buildings in four types for all your residential, commercial, and agricultural needs.
Standard Metal Buildings (12′-24′)
Barn Buildings
Certified Triples (26′-30′)
Certified Commercial Buildings (40′-50′-60′)
Benefits Offered by Carolina Carports, Inc
There are some amazing benefits you can get when you buy a metal building from Carolina Carports, such as;
Strong and highly-durable steel structures that will serve you for decades
Manufactured with galvanized steel that is rust-resistant
A long-term warranty on the products on defects and rust
Limited lifetime warranty on all certified units for wind and snow loads
Competitive metal building prices and flexible payment options
Custom-built metal structures based on your requirements & preference
Excellent customer support
100% client satisfaction
20 year limited warranty
Color Options Offered by Carolina Carports
Carolina Carports offers a variety of color choices to choose from when selecting your Roof Color, Trim Color, and Wall Color.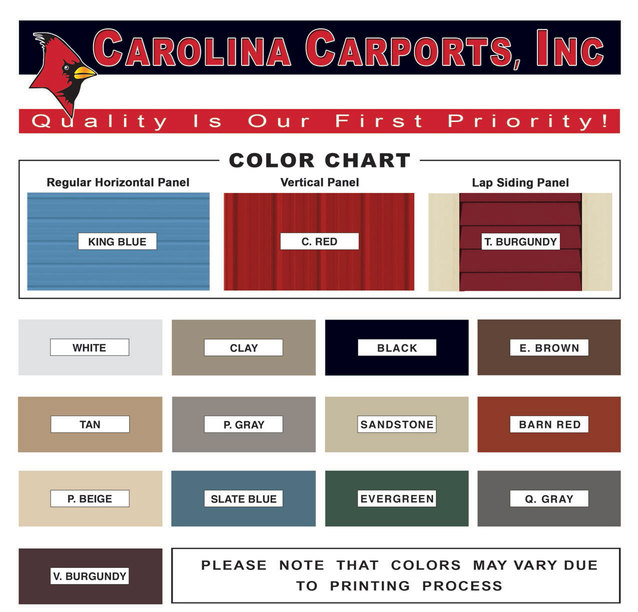 Limited Warranty By Carolina Carports, INC.
Metal garage buildings offered by Viking Metal Garages are among the best quality in the industry. We are committed to our customers to provide them with top-quality steel structures with some of the industry's best warranties. We are a nationwide steel garage supplier who offers peace of mind to our customers with warranty protections. Below is the information on Carolina Carports warranties, which shows our confidence in the steel structures that we deliver at your doorstep.
Limited Warranty Details
20 Year Limited Rust Through Warranty On:
12 Gauge Framing
Vertical Roof Style Up to Any Length
Regular Style Up to 31' Long
Boxed Eave Style Up to 31' Long
Limited Lifetime Warranty on All Certified Units for Wind and Snow Loads
10 Year Limited Rust Through Warranty On:
14 Gauge Framing
1 Year Workmanship Warranty from the Date of Installation
All warranties assume normal care and maintenance using mild soap and water. We do not recommend the use of any harsh chemicals. Warranties are limited and non-transferable.
Environment
Above mentioned limited warranty does not apply in the following cases:
Attack from chemical agents, fumes, liquids, or solids other than direct rain falling onto product under warranty
Contact with soils, ashes, fertilizers or other moisture retaining substances
Failure to remove debris and/or failure to provide free drainage of water including internal condensation from all surfaces of the product
Deterioration of the sheet caused by contact with green or wet timber or treated pine
Installations subject to unusually corrosive environments at any time in the future
Storm and tempest or other acts of God
Maintenance Instruction
The paint film surface must be washed annually by cleaning with mild detergent and clean neutral water. The paint film surface must not be cleaned with abrasives or chemical cleaners.
Learn more about the warranty details by calling our customer service executives at (704)-823-6732.
Carolina Carports, Inc. Service Areas:
Carolina Carports, Inc provides quality steel buildings throughout part of all of the following states – Texas, Oklahoma, Kansas, Missouri, Arkansas, Louisiana, Tennessee, Kentucky, Mississippi, Alabama, West Virginia, Georgia, South Carolina, North Carolina, Virginia, Indiana, Ohio, Pennsylvania, Maryland, Florida.
We, at Viking Metal Garages, feel proud of our association with Carolina Carports, Inc. If you have requirements for any metal structures manufactured by Carolina Carports, call our steel building specialists today at (704)-823-6732 to find the perfect steel solution.
In an effort to focus on our core states and improve installation lead times, CCI will be implementing the following changes effective April 9th, 2021:
CCI will no longer service the states of NY, NJ, or IL. We will continue to process in-house orders but will no longer receive new orders from these states.