Dreams Carports & Buildings, Inc. is a privately held manufacturing company with highly trained production personnel, quality steel availability, and skilled professional crews for the installation of their products, uncompromising quality and courteous customer service.
Viking Metal Garages
is an authorized dealer of Dreams Carports & Buildings, Inc. In association with this manufacturer, we serve our customers with premium metal building solutions which are cost-effective and highly-durable for decades. Their high-quality buildings, excellent customer service, and fair prices have allowed them to stay one step ahead of the competition.
Why Choose Dreams Carports & Buildings, Inc?
Dreams Carports & Buildings has taken the pride to take care of their customers, and that underlying business philosophy is what drives them every day. They are well-known for offering incomparable building quality, fair prices, and courteous customer service and have 15 years of combined industry experience. All their final products are made with prime domestic raw materials that conform to stringent ASTM (American Society for Testing and Materials) steel specifications, which mean the steel structures exhibit superior performance consistently. They're dedicated to providing the value and total commitment of service with their highly trained production personnel, material availability, and skilled professional crews for building installation, uncompromising quality, and courteous customer service.
Steel Buildings Types Offered by Dreams Carports & Buildings, Inc
Dreams Carports & Buildings offers a wide range of steel building structures to fulfill all your residential, agricultural, and commercial needs.
Deluxe A-Frame Style Carport: This carport style is just like an A-Frame Style with a small extension on top, giving it a more similar look to a barn. It is manufactured using 14 or 12 gauge steel and comes with vertical roof panels.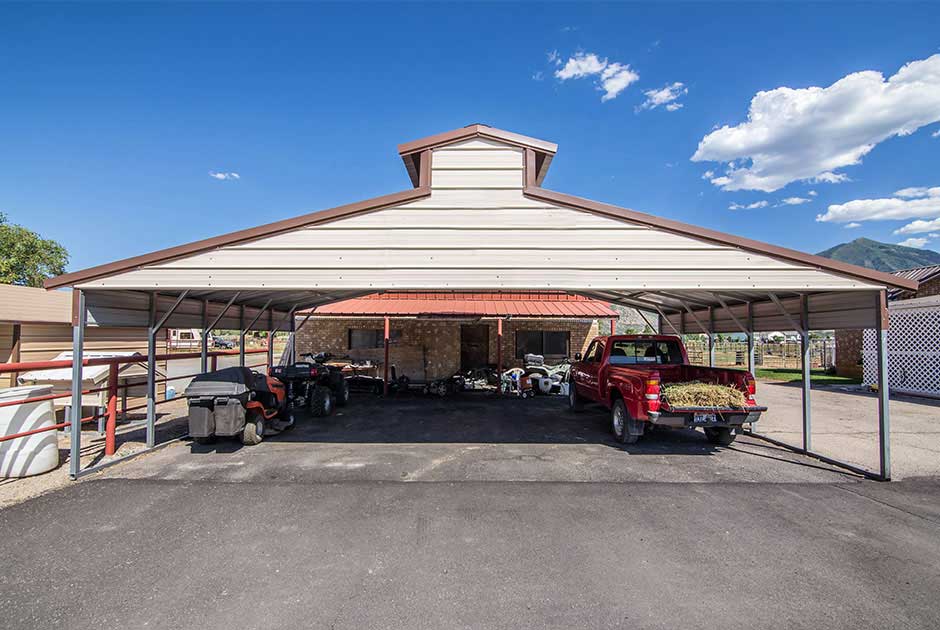 Dream Style Structure: It looks like a gazebo-style structure. If you need to cover up your patio for summer outings, it is the right building. Only Dreams Carports offers this building type in any size you need.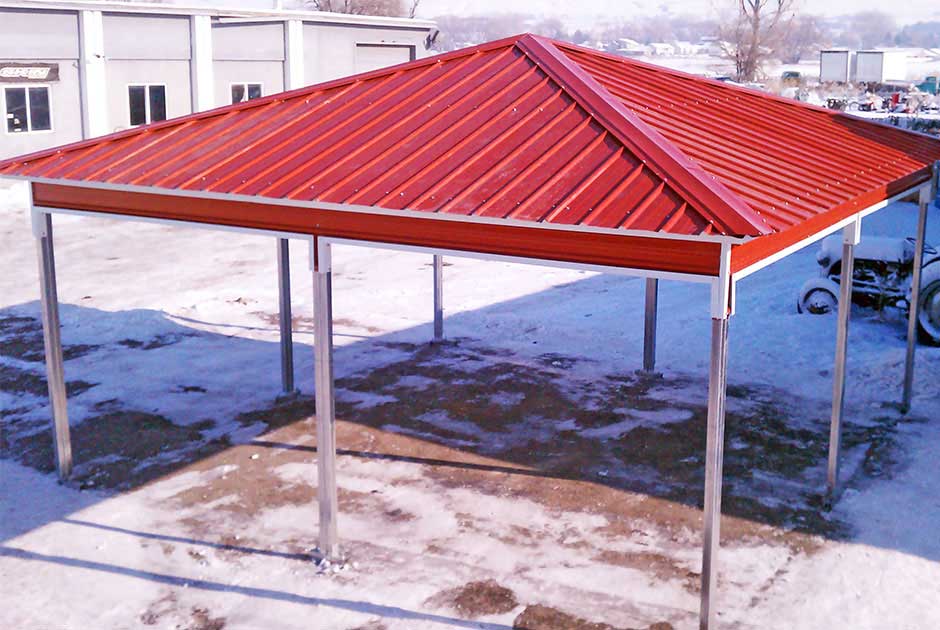 Fully Enclosed Garage: Our extensive range of affordable and durable pre-fabricated enclosed metal garages comes in a variety of sizes to fulfill all your residential, commercial, or agricultural needs. These buildings can be customized by adding roll-up doors, overhead doors, 12 & 14 Gauge frameworks, color options, and much more.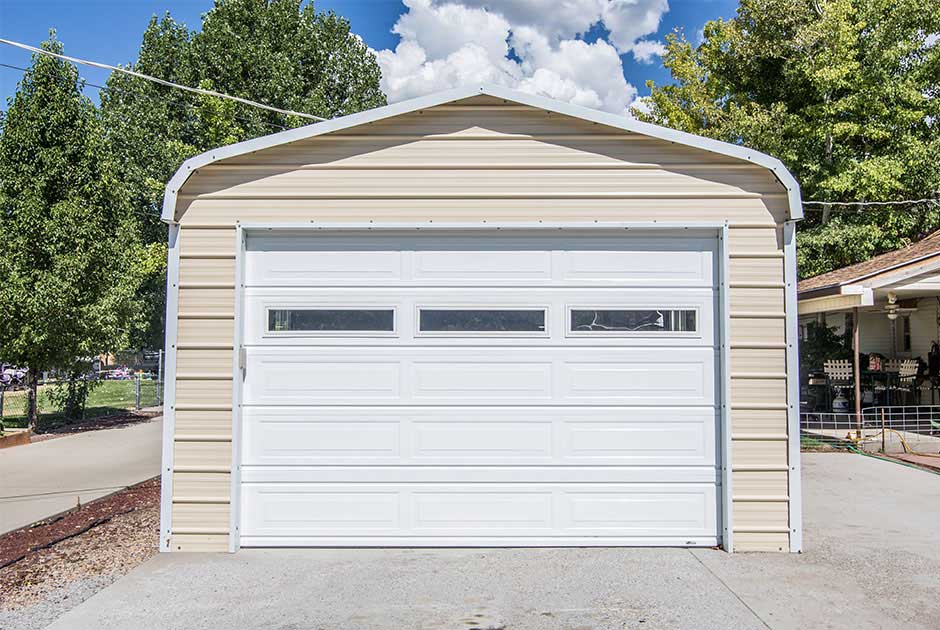 Loafing Sheds: These are 3-wall metal structures that provide a simple, cost-effective way for protecting your livestock from the elements when they're out to pasture. This manufacturer offers a heavy-duty all-steel loafing shed that is made and designed to sustain for last. Loafing sheds are the most utilized sheds on ranch/farm areas, which can be used as a basic safe horse shelter, a dry place to help your cows, calves, or a place to store your hay. We can customize loafing sheds with tack rooms to loafing sheds with kick walls.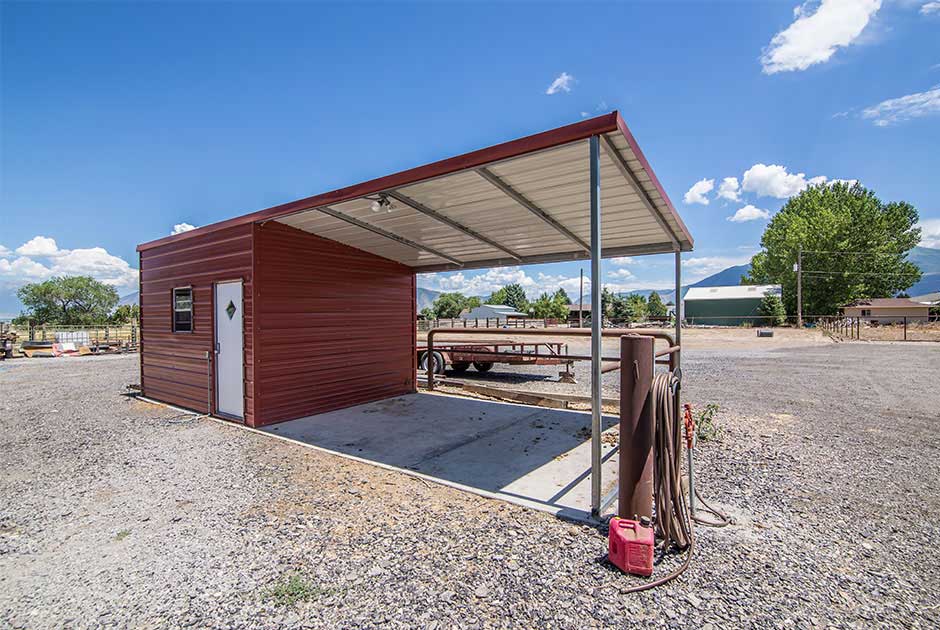 Red Barn/Horse Barn/Seneca Barn Style: Dreams Carports and Buildings Inc offers three barn styles - Red Barn, Horse Barn, and Seneca Barn. Metal barns are the perfect option for livestock, farm machinery, sheltering vehicles, and feed and storage purposes. The standard size offer by Dream Carports for the center unit is 12'-30' wide, and lean-to is each 12' wide, which are combined to make units up to standard 54' Wide.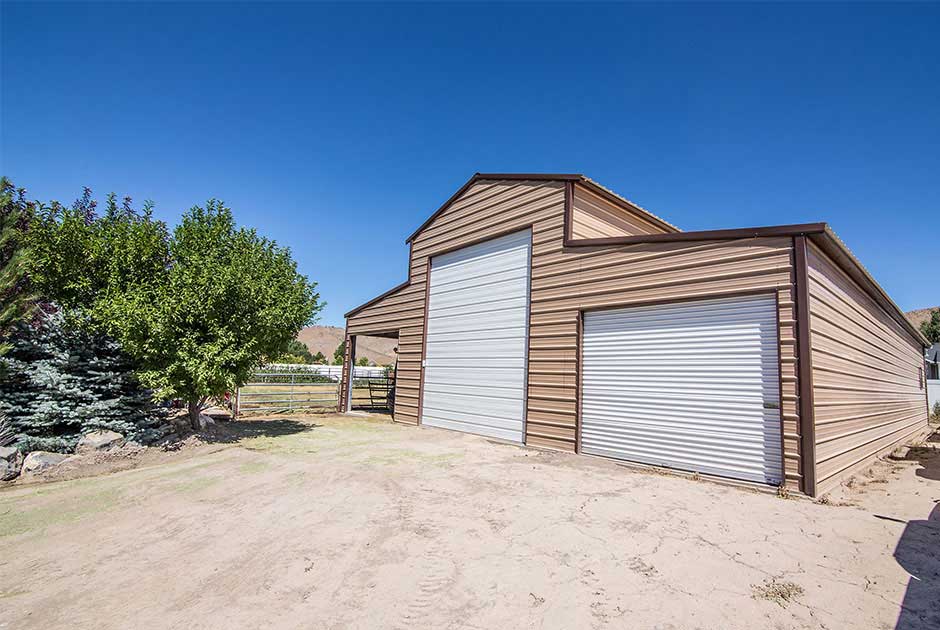 Side Entry Metal Buildings: Side entry buildings are perfectly designed for those who need to store more vehicles or equipment and do not have ample space for a larger carport. This metal building style is available in their regular or a-frame style buildings. You can choose from Square Frame Openings or their latest 45º frame openings that give it a touch of elegance.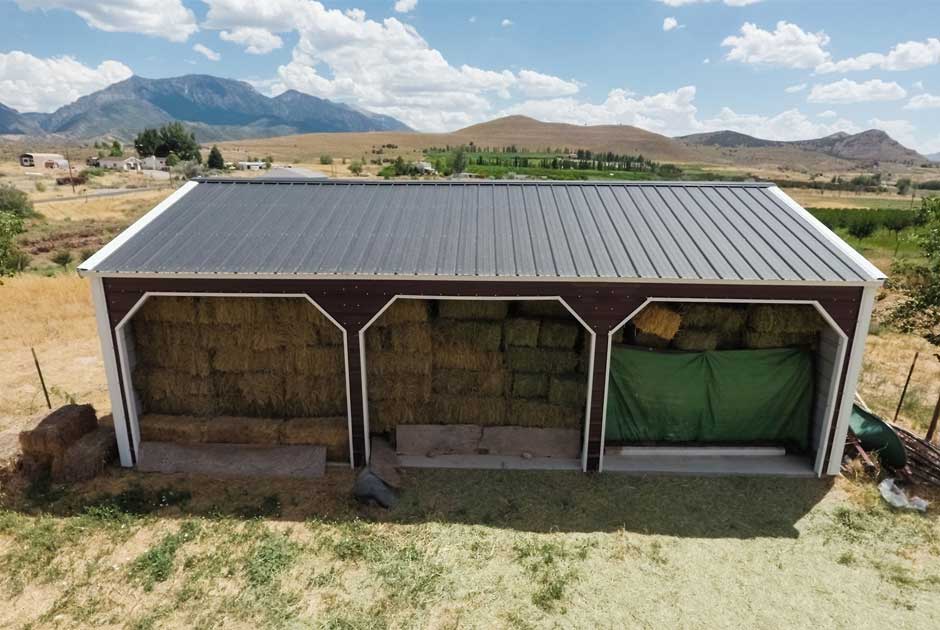 Strongest Deluxe Carports: These are the most economical and top-quality metal carports to provide long-lasting, maximum protection for your vehicles, equipment, and other things from harsh weather conditions. Dreams carports are available in three different roof styles: Regular, Boxed Eave, and Vertical. You can choose these roof styles according to your location and personal needs. We always recommend using Vertical metal roof structures if you are living in an area with heavy rain, snowfall, storm, and other harsh weather conditions.
Utility Carports: Utility Carports offers an enclosed structure with an additional extra space which can fulfill all your storage requirements. Dreams carports provide different sizes, wood floor options for the enclosed building, which can be customized in the way you are looking for your metal building project.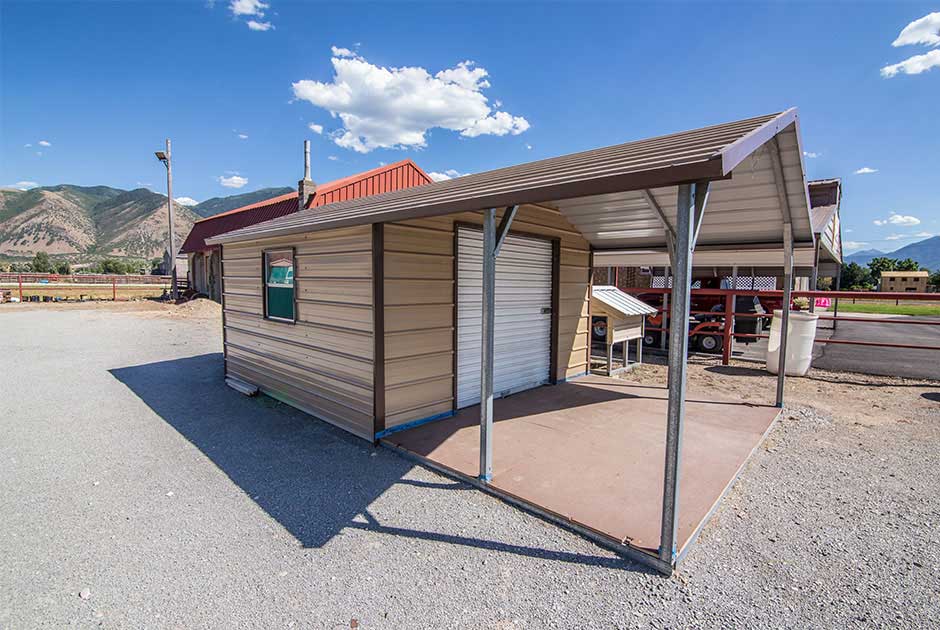 26' – 30' Triple Wide Carports: Triple Wide Clear Span Carports are engineered with a heavy-duty truss system. Their wide clear span, maintenance-free area is perfect for when trying to fit more than two trailers, boats, large equipment, or multiple vehicles. These structures are one of the most substantial buildings which come with certification for snow and wind loads.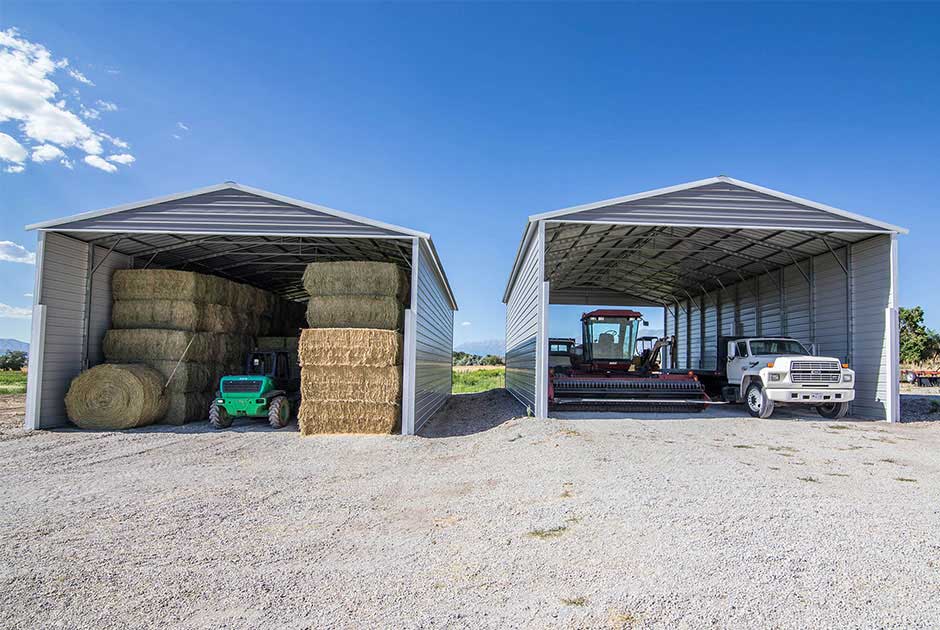 Dreams Carports & Buildings, Inc. Prices
Dreams Carports & Buildings provide cost-effective prices of their extensive range of metal garage buildings without compromising the quality. All customers must know that there are still many factors that could affect the final cost of your building, including its size dimensions, style, roof type, installation location, and your customization requirements. For all pricing related information, you can call us today at (704)-823-6732.
To give you financial freedom, we are proud to offer a wide range of metal building financing and rent-to-own options that make it easy and affordable to purchase the steel building that best covers your needs.
At Viking Metal Garages, we provide top-quality, cost-effective metal buildings with partnerships of America's best steel building manufacturers. If you would like to get information about our pricing or financing and rent-to-own programs, one of our metal building specialists can provide quick assistance at (704)-823-6732.
You can also get Dreams Carports & Buildings with our multiple financing options which are available with the lowest interest rates. With varied metal garage financing solutions you get multiple benefits, some of them are:
Flexible payment terms (24-72 months)
Tie-ups with leading finance vendors
Financing available up to $50K Building price
Payoff anytime
Quick and easy financing process
Complete transparency
Our easily available RTO option is another ideal option to choose. We offer highly-durable steel buildings with quick RTO option . Moreover, no credit check is required to apply for RTO Program. In future if you plan to buy it, you can pay-off anytime and make it yours. Take advantage of the rent-to-own options without worrying about financing.
No credit check
Flexible payment options
Affordable monthly payments
Payoff Anytime
Instant approval
Ownership in 36 months or less
For any doubts and queries, feel free to call our building specialists at (704)-823-6732 .
Metal Building Accessories by Dreams Carports & Buildings
Metal building components and accessories can be as important as the building itself. Dream Carports & Buildings offers a substantial number of metal building accessories that increase the functionality & durability of your structure.
Gable End: A Gable end helps tightly fasten the roof with the side of the building and adds extra stability to the structure. A Gable is an additional feature that gives coverage to your metal building; you can apply it to the front and back end of any metal building. It is the triangularly shaped metal sheet added to the roof to provide structural support.
Vertical Roof: Vertical style roofs offer more steel framing in the unit, with a hat channel running the length of the underside of the unit, which helps support the panels and makes the structure more rigid. Thus, it makes the rain or snow slide down towards the sides of the building. It's a significant investment and is highly recommended if your building is in an area with heavy snowfall. This option is convenient when you have garage doors or openings on the end of the metal structure; because the rain/snow would drain down towards the side of the structure instead of down the ends.
Garage Overhead Door: Garage overhead door is the most usable object in your building in which you can also add insulation to reduce the transfer of heat or cold air into your garage structure.
Windows: Windows allow fresh air and natural light to infiltrate and reduce the need for electric lighting. Dreams Carports offers windows that are 24" x 36", have a slide up option, clasp lock, and window mesh net.
Sky Lights: Skylights add natural lighting, improving moods in the workplace, and providing a sense of openness that can be calming. The skylight panels come on a 36" Wide x 144" Long, which can be used on vertical roof and walls only. These come with class "A" fire rate that can resist heat and can stand up to harsh weather conditions.
Walk-In Door: With two different sizes available, i.e., 32″W x 72″H and 36″W x 80″H, walk-in Doors are designed to meet your needs.
Roll-Up Doors: A commercial Roll-up door has the dual springs to help the door move up and down with little effort. These have extruded aluminum on the outside that prevents rust and corrosion from reaching the inside of the door. The Garage roll-up doors are made of 26-gauge hot-dip galvanized steel, which is durable and rust-resistant for decades.
Rebar Anchor – Rebar Anchor is a standard steel reinforcing bar with a 5/8" nut welded on one end. These can be used as temporary anchors at no additional cost.
Mobile Home Anchor (Ground): These are available for strictly ground installation, which comes with a warranty of 90 to 105 MPH Wind Load. The size of mobile anchors is 30" long, which can go up to 48" long for larger buildings.
Cement Anchors (Concrete Piers): These are positioned, so the base rails are centered in the concrete pier with 12" diameter and 24" deep. The piers are sloped with 1/8" per foot to allow the flow of water that might be gathered in horizontal panels.
Insulation: Reflective insulation is available that is ICC-ES recognized and energy star qualified, which works in temperatures as extreme as -20 degrees Celsius and as high as 80 degrees Celsius.
Wainscoting (Colonial Style): By using wainscoting, you can add a more fabulous view to the exterior of your building.
Kick-Wall: A Kick-wall is made of 5/8" Ply-Wood Panels, mostly used on a Loafing Shed Style. It is available on any other DCB (Dreams Carports & Buildings) Style Building.
Ground Supports: Ground supports are recommended for the buildings 8' or taller, which adds more stability to the structure.
Dreams Carports & Buildings Service Areas:
Dreams Carports & Buildings provides delivery and installation services in several Western and Midwestern states, including Oregon, Idaho, Nevada, Montana, Utah, Arizona, Wyoming, Colorado, New Mexico, Kansas, Nebraska, South Dakota, and North Dakota. Based on your location, Viking Metal Garages will assist you in choosing the right local area manufacturing partner to provide you the best metal building solution.
Metal Building Permit Information by Dreams Carports & Buildings, Inc
Steel building permit regulations vary from city to city, or rural area, this all depends on your city or county. The cost for a permit varies widely, depending on the location and size of the building. All buyers should call their local building officials for detailed information. For larger projects, particular inspector's visits are required, and fees are generally intended to cover the cost of those inspections.
Building Permit Process:
The building permit process involves filling out an application (by buyer)
Provide a site plan (layout of the project)
Two sets of drawings are typically required (some areas require calculations as well as drawings)
These requirements are generally the same in most of the cities, and homeowners (buyers) should always check to be sure before beginning construction.
Dreams Carports & Buildings Inc. is not responsible for obtaining a building permit for any customer. This manufacturer can supply drawings for an additional charge (drawings and calculations are sold separately). Once again, when purchasing a building, it is essential to know what the specific city building code is if you are to obtain a building permit. Please note that Dreams Carports will not have information on what your city or county requires for your building to meet local code. It is customers' responsibility to call their local building official for detailed information and get all the required building permits.
Snow Load & Wind Load Specifications Offered by Dream Carports & Buildings, Inc
Snow Load:
Dreams Carports & Buildings Inc., manufacturers top-quality garages, sheds, carports, canopies, carport covers, shelters, boat canopy covers, shed garage kits, RV covers, barn storage buildings, sheet metal buildings, metal sheds kits, and much more to meet the engineer specifications. Any of these types of structures can reach any snow load needed.
Dreams Carports & Buildings, Inc designs their pre-engineered buildings to ensure that it's up to code and meets the requirements in your city or state. The standard snow loads range from 30 Pounds per Square Foot (PSF) Ground Snow Load up to 60 PSF Ground Snow Load, which can go up to 90 PSF Ground Snow Load Certification for an additional cost.
Their massive snow load metal buildings are constructed with the heavy-duty 12 gauge steel frame, and the bows/legs are spaced closer on center, one brace on every leg is included when purchasing a certified building. This manufacturer can offer snow loads up to 90Lb PSF ground snow load certification for an additional cost.
You can also refer to the below chart, in selecting what snow load could cover in your area. Snow Load is based on PSF (Pounds per Square Foot), below are some Standard Requirements:
| | |
| --- | --- |
| Snow Load | Conditions |
| 10 Pounds PSF Live or Ground Snow Load | Generally, it refers to rainfall. |
| 20 Pounds PSF Live or Ground Snow Load | Moderate Snow Fall or Minimum for Carports. |
| 25 Pounds PSF Ground Snow Load | Moderate Snow Fall. |
| 30 Pounds PSF Ground Snow Load | Moderate to Heavy Snow Fall. |
| 40 Pounds PSF Ground Snow Load | Heavy Mountain Snow Fall. |
| 50 Pounds PSF Ground Snow Load | High Mountain Snow Fall. |
| 60 Pounds PSF Ground Snow Load | Extreme High Mountain Snow Fall. |
Wind Load:
Dreams Carports & Buildings (DCB) always gives the option to have you upgrade your building to the Wind Load certification. It is highly recommended that a metal building must be durable and wind-resistant. When purchasing a steel structure, it is crucial to consider the wind load certification to ensure that the metal building can withstand high winds, primarily if the building is located in an area known for inclement weather.
Why You Should Buy Dreams Carports & Buildings from Viking Metal Garages?
Best dealer of all types of prefabricated metal buildings
Provide certified metal buildings that are designed to adhere to the highest standards of quality
Wide range of attractive color options available for the roofs, trim, walls and more
Endless customizations on all metal buildings offered to meet exact needs for layout, aesthetics, and functionality
Free delivery and installation included
Metal building financing & RTO program available
Viking Metal Garages is proudly associated with Dreams Carports & Buildings, Inc. to deliver quality products and outstanding service to each customer. We take pride in being using American steel for all our metal building construction projects. To get the complete solution for all your metal garage needs, talk to our metal building expert at (704)-823-6732.